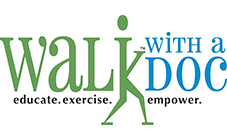 Walk with a Doc
Now offered at the Lima YMCA!!
Walk with a Doc was started in 2005 by Dr. David Sabgir, a cardiologist in Columbus, Ohio. Frustrated with is inability to affect behavioral change in the clinical setting, Dr. Sabgir invited his patients to go for a walk with him in local park on a spring Saturday morning. To his surprise, over 100 people showed up, energized and ready to move.
Since that first event in 2005, Walk with a Doc has grown as a grassroots effort, with a model based on sustainability and simplicity. A doctor gives a brief presentation on a health topic and then leads participants on a walk at their own pace. The Walk added an Executive Director in 2009 and focused on building a program that could easily be implemented by interested doctors in other cities around the country. As a result of these efforts, the reach of Walk with a Doc now extends all around the globe with over 300 chapters worldwide!
Walking was recently recognized by the Surgeon General of the United States of America as one of the single most important things we can do for our health. That's why the LIMA FAMILY YMCA is excited to be hosting a monthly Walk with a Doc event on the first Saturday of every month, beginning at 9:00am. We are excited to offer this FREE opportunity throughout the Lima and Allen County community. During inclement weather the inside Y walking track will be used. If the temperature is above 50 and there is no chance of rain, we will plan on utilizing the Rotary River Walk. Dress for the weather and join us on our own or with a friend or family member and Walk with a Doc.