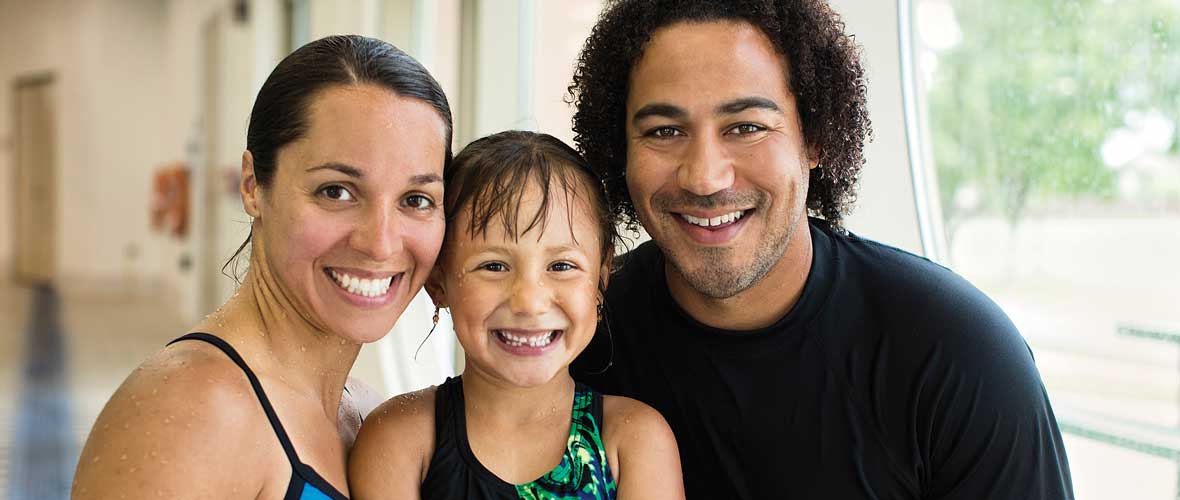 Five Ways to Work Out with the Whole Family
Here at the Lima Family YMCA we want to focus on the whole family and spend time together as a family while getting physical activity at the same time.
Here's five ways you and your family can exercise together (and have fun!)
Whether it is with a pet, at a park, around the neighborhood, or on the walking track, walking is an easy, low-impact workout that is perfect for families to do together. Studies have found that regular brisk walking can help you:
Maintain a healthy weight.
Prevent or manage various conditions, including heart disease, high blood pressure, and type 2 diabetes.
Strengthen your bones and muscles.
Improve your mood.
Improve your balance and coordination.
Spend time together in the water!  Water is an excellent resistant, and even just simple movements in the pool like walking or treading water can quickly burn calories. Your kids will love to splash around with you, and you'll get the benefits of a good workout while doing so.  At the Y, you'll never have to worry about the inclement weather; our pools are open year-round, so you can always take a dip regardless of the season.
You may think this way to exercise is better fit for kids, however, instead of just watching your child play a sport, joining in and playing with them can be hugely beneficial for both parties. So, throw that football or baseball back and forth, kick around the soccer ball together, or shoot some hoops together at the Y. No matter what sport you choose, playing with your child will not only enhance their skills, but it will also create a stronger bond.
4.  Take a Group Exercise Class
At the Y, you have access to more than 75 group exercise classes weekly as a member. BodyPump, Zumba, BodyFlow, and Cycling are all great classes to do as a family – Youth 13 and up can participate in a class! Y Kids Are Fit group exercise class is for children ages 8 to 13 years old. The next time you are looking to switch up your workout- try a new class, and bring the entire family with you for a great time.
Volunteering is great for your mental and emotional health- but many of our volunteer opportunities also offer a physical benefit as well. Bring the entire family to bond together while strengthening your community at the same time. We have seasonal clean that the whole family can participate in.   There are also are volunteer opportunities to help with Lego league or High School Robotics, youth sports, health and wellness and to help with laundry or filing at the desk.
Via
essay writer
gifsoup as an introvert, I love my alone time